Why Ride at Loftmar?

       

Simply put, Loftmar strives to be the best! Our program is tailored to meet your individual needs. Listen to what our clients have to say: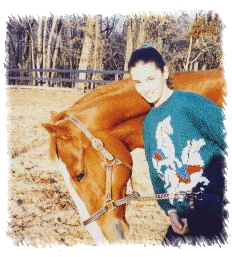 "An excellent reputation for a high quality lesson program." Parent
"Learning is fun for Abbe, is professionally run, but not overly commercialized. Instructors are of quality and have patience to work with children." Parent of 5yr. old
"Friendly people, who make you feel at home." Working Student
"Quality of teachers, horses, teamwork-, and really nice people."Mother & Son Students
"Compared to 10 other stables in the area, Loftmar is cleaner and better managed, with consistent caring instruction, a positive environment for animals and kids." Parent
"Its beauty, peacefulness, quality of horses, plus the excellent instruction and opportunities for showing."Mother & Daughter Students
"I love the horses. The whole program is MUCH more organized than my recent riding stable, and I like the way the instructors teach." Teenage Student
"Cleanliness, safety standards, quality of instructors, family atmosphere." Mother & Daughter Working Students
It's nice to know that our clients agree that these are our keys to success:
QUALITY INSTRUCTORS:Loftmar's instructors are carefully chosen with a minimal turnover. Each is highly skilled and certified. They truly care about their students and are wonderful role models and friends.
WELL TRAINED SCHOOL HORSES:We have the best school horses and ponies in this area. Our horses are a major reason why students consistently place above others in shows. They also contribute to our safe environment.
ORGANIZED/CLEAN FACILITY: Our airy block barn with spacious stalls, provide the best environment for the horses and ponies. We also have heated tackrooms, indoor and outdoor washracks, a lighted outdoor dressage & jumping ring, and a 80'XI60' indoor arena. Our organized program, and the pride we take in our facilities, will be obvious on your first visit.
CARING FAMILY ATMOSPHERE: We take as much pride in our student's accomplishments, as we do in our facilities and ourselves. Riding at Loftmar is not only a sport but a social activity where both instructors and students encourage and support one another.
SAFETY/CHA PROGRAM: While riding is fun, safety is paramount. The importance of having knowledgeable people capable of preventing accidents is essential. CHA, the Association for Horsemanship, Safety, and Education, places appropriate emphasis on safety and development of proper riding skills. The CHA program supports the skills taught in our lesson program.
CONSISTENCY: With very few exceptions, our students ride with the same instructor weekly. Our instructors are highly qualified, so when you work with another instructor, you will benefit from their individual teaching style. Loftmar's teaching manual helps instructors teach with consistency.